RTB Microphone Preamplifier: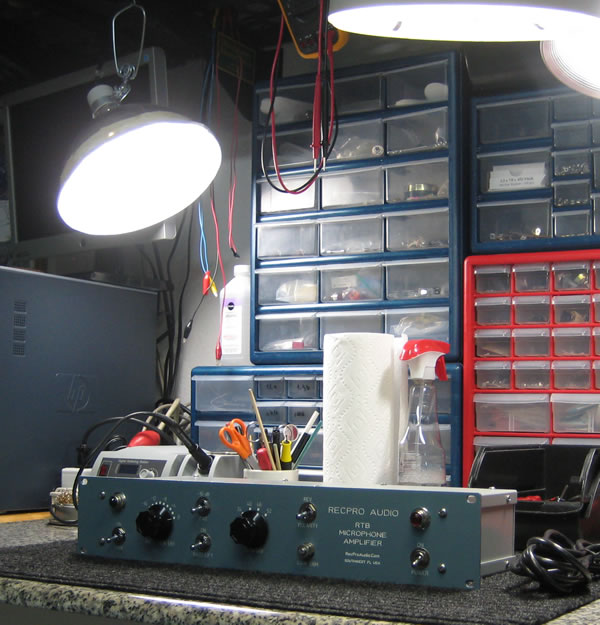 Each RecPro Audio RTB Mic Preamp is meticulously hand-built by Rondo using only the finest audiophile components available. A super-boutique Beatle preamp made for world-class work.
Architecture:
Cartridge - Hand Wired Point-to-Point
Regulated Power Supplies:
HT, LT, Cartridge, Phantom (Highly Filtered and Bypassed)
Controls:
34, 40, 46, 52 dB Selectable Gain
-20 dB Stepped Attenuator (-2 dB Steps)
-10dB Pad
Bass Lift (For Figure 8 Use)
48V Phantom
Polarity
Fine Gain
Componentry:
CineMag Transformers (Hi-Nickel Output)
ELMA (Gold Plated) Switches
PEC Potentiometer
Nikkai Toggles
NOS Cinch Sockets (Shock-Mounted)
Capacitors:
SuperCap
MultiCap
AudioCap
Solen
Aeon
Wima
Nichicon
Resistors:
Roederstein
Caddock
Mills
PRP
Holco
Valves:
NOS Mullard and/or Telefunken EF86 and E88CC
Cable and Wire:
Alpha Silver Plated Mil-Spec PTFE
Chassis:
2U Rack Heavy Duty EMI / RFI Shielded
Power:
Universal 120/240V Operation
Warranty:

1 Year Parts and Labor. (Service shipping costs the responsibility of the customer.)
RTB Preamps are hand-built to order, available exclusively through RecPro Audio.
Price: Inquire via email or Call 239-689-5941










International orders welcome.*
*Any and all import duties, fees and/or taxes are the sole responsibility of the customer.